Front Desk Clerk/Municipal Court Clerk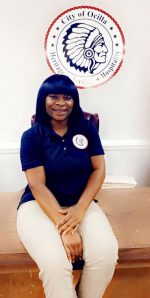 Quanneisa Harris, Front Desk Clerk & Municipal Court Clerk
The Front Desk Clerk duties vary by customer.  The primary responsibilities of the Front Desk Clerk are customer service and administrative work, such as word processing or data entry.
The Municipal Court Clerk is responsible for clerical and administrative duties in the Ocilla Municipal Court. They maintain a docket of filing and hearing dates, arranges and records payments of fees and fines and assembles documents and materials for court proceedings.
Need to get in touch with the Front Desk Clerk/Municipal Court Clerk?