Directory Category:
City Clerk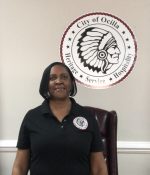 Lucile Middlebrooks, City Clerk
The City Clerk of Ocilla is responsible for providing information pertaining to Ordinances, Resolutions, Elections, and Open Records' request. The City Clerk is also the Supervisor of the office staff at City Hall and provides support to the Mayor, Council, other Department Heads, and City Employees. The City Clerk records and provides information pertaining to Agendas and Minutes for the City Council meetings. She works with the Mayor and Council to provide the best municipal services for the Citizens of Ocilla. The City Clerk works with various insurance agencies, other governmental agencies, and community leaders such as the various County Offices of Irwin County, the Southern Georgia Regional Commission, USDA Rural Development, Ocilla Housing Authority, Chamber of Commerce, Georgia Power, and Irwin EMC to provide the City with the best possible services for the Citizens of Ocilla as well as the employees of the City.
Need to get in touch with the City Clerk?